Former India batsman VVS Laxman heaped rich praises for Wriddhiman Saha after the batter scored a valiant fifty on Day 4 of the Kanpur Test against New Zealand.
Wriddhiman Saha did not keep wicket during New Zealand's first innings due to a stiff neck. KS Bharat took the wicket-keeping duties then.
However, the Bengal 'keeper did come out to bat during India's second innings on Sunday at the position where the hosts needed someone to extend the lead. In partnerships with Shreyas Iyer and Axar Patel, Wriddhiman Saha scored 61 unbeaten runs, swelling India's lead to 283. He was in pain due to his neck and also was given treatment by the physio during his batting innings.
VVS Laxman, who has worked with Wriddhiman Saha over the years at Sunrisers Hyderabad, hailed the 37-year-old for his fighting knock and spirit.
"Wriddhiman Saha is the ultimate fighter and the ultimate team man," Laxman was quoted as saying by India Today.
We have real spin power, so hopefully, we can get the job done tomorrow: Shreyas Iyer
After setting New Zealand the target of 284 runs, R Ashwin struck in the third over of the innings with the wicket of opener Will Young.
Shreyas Iyer, who became the first-ever Indian to hit a century and a fifty on Test debut, is confident that India's spin trio – Ashwin, Axar Patel, who took a five-fer in the first innings, and Ravindra Jadeja – will be successful in nipping out the remaining 9 wickets on Day 5.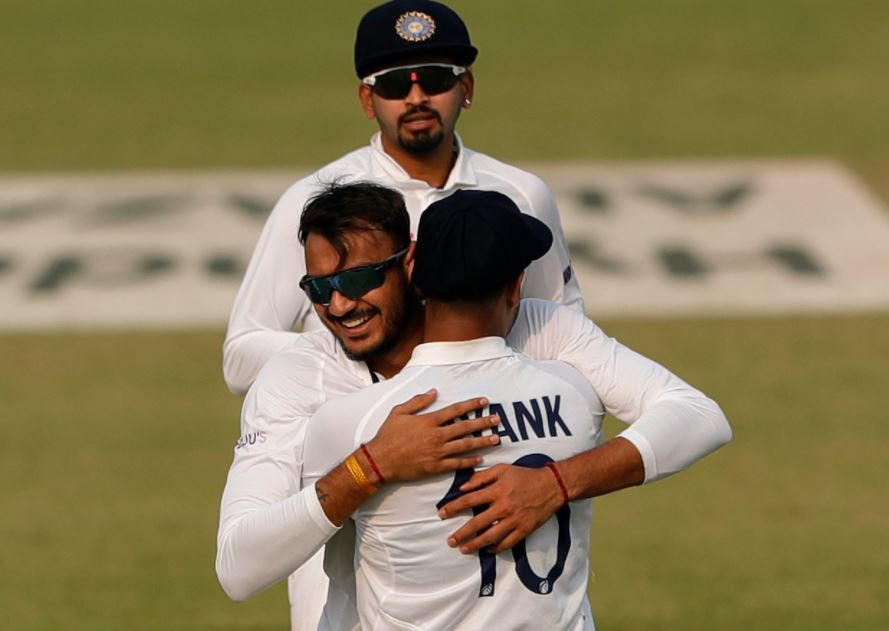 "We felt that 250 including the first-innings lead would have been a good score, so we're very happy with where we are now. Actually, not a lot was happening with the wicket today, the ball was keeping a bit low. The talk was to get to a competitive total and I feel that it's a really good total. We have real spin power, so hopefully we can get the job done tomorrow," Iyer said. 
After the Kiwi bowlers had India reeling at 51-5, the fifties from Iyer and Wriddhiman Saha, along with scores of 32 and 28 from Ashwin and Axar Patel, helped the side to a total of 234, batting the visitors out of the game.