Indian spin bowler Harbhajan Singh and Pakistan pacer Mohammad Amir have been engaged in an ugly spat on Twitter for the last couple of days.
It all started with the former Pakistan player taking a dig at the Indian player after Pakistan won by 10 wickets against India in their opening match of the T20 World Cup.
"Hello everyone woh pochna yeah tha @harbhajan_singh paa ji ne TV to ni tora apna koi ni hota hai end of the day its a game of cricket 😊," Amir tweeted.
Mohammed Amir mocked Harbhajan Singh to start an ugly argument
The tweet mentions whether Harbhajan broke his Television set or not. The matter got worse as a furious Harbhajan Singh replied to the Pakistan player with a video clip in which he could be seen hitting a six against Amir in an Asia Cup match.
Should not have reacted to the comments of a person who sold his country: Harbhajan Singh on Mohammad Amir
Things came to such extend that Harbhajan had to remind Amir of his involvement in a spot-fixing scandal along with then teammates Salman Butt and Mohammad Asif during the 2010 Test series in England.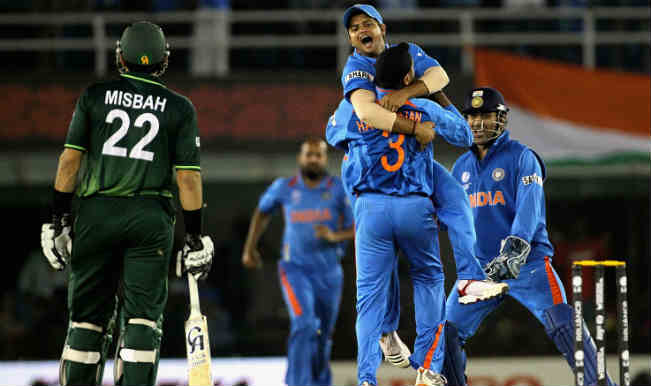 Recently Harbhajan mockingly urged Pakistan Prime Minister to educate Amir on how to talk with senior players.
Harbhajan was also involved in a series of banters with former Pakistan bowler Shoaib Akhtar, which the Indian player took in a friendly manner.
"I would request Imran Khan to open a school for such children where they can learn how to speak to senior cricketers. In our country, we are taught manners. Even today, we talk with cricketers like Wasim Akram with a lot of respect. And people like him (Amir) don't know what to talk with whom. I should not have reacted to the comments of a person who sold his country," Harbhajan told Aaj Tak.
"The banter between me and Shoaib is different as we know each other for a very long time, having played plenty of cricket together. We have also done many shows together. We have an understanding.
"Who is Mohammad Amir? Is he the same guy who was guilty of match-fixing at Lord's? What is his credibility? He would have barely played 10 matches for his country and he betrayed his country as well by accepting money to fix a match," he added.
Amir came back to play in 2016 for Pakistan and also helped them to win the 2017 Champions Trophy in a final against India.
Amir retired from international cricket in December 2020, citing torture from the then team management comprising Misbah-ul-Haq and Waqar Younis.
Also Read: T20 World Cup 2021: Loss Against Pakistan A 'Wake-Up Call' For Team India; All Games Hereon Must-Win Matches: Harbhajan Singh